Revolution Recap
Revolution Recap
is a weekly review of the New England Revolution and Major League Soccer on Sundays from 7-8PM on WNRI 1380 during the MLS season, hosted by Sean Donahue. For more information visit
RevolutionRecap.com
For the latest Revolution news visit
Soccer New England
.
New content on NERevs.com is temporarily on hold.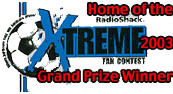 Welcome to NERevs.com!

---
Latest News:
Player Profile: Rookie Sensation Clint Dempsey
The eighth pick of the 2004 Major League Soccer SuperDraft has earned a starting spot in the New England Revolutionís line-up and is considered by many the early favorite for rookie of the year. Clint Dempsey is currently second on the Revs in scoring with 4 goals and is one of only three players to have played in all 13 of the Revolutionís matches this season. The rookie midfielder/forward is only the third player in team history to earn a starting spot in his first or second game and leads all of the top ten picks from this yearís SuperDraft in minutes played. Dempsey comes into Sundayís match against Colorado with a three game goal-scoring streak despite playing both forward and defensive midfield in different games during that stretch. With stats like this itís easy to see why the 21 year old from Nacogdoches, Texas is attracting so much attention from media and fans.
Revs upset Metrostars, 2-1
FOXBORO, MA. - The last place New England Revolution (3-7-3) upset the first place Metrostars (5-4-4), despite missing many starters to injury. With the win, the Revs have gone 10 MLS games unbeaten against the Metrostars including the playoffs. Rookies Clint Dempsey and Felix Brillant provided the goals for the Revs, while great saves from both Adin Brown and Matt Reis kept the Metrostars from scoring until the 90th minute.
U.S. advance, but show defensive holes against Grenada
ST. GEORGE'S, Grenada - The U.S. Menís National Team defeated Grenada 3-2 and advanced to the semifinal round of World Cup qualifying, but it wasnít as easy as expected. The 9th ranked U.S. surrendered two goals to the 138th ranked Grenada in the away leg, despite playing a man up for much of the match. Taking a 3-0 aggregate goal lead into the match, however, the U.S. easily qualified 6-2 on aggregate goals. Heavy rain caused a very wet playing surface and both sides had some struggles passing the ball through puddles.
Revolution lose to Kansas City, 3-1
FOXBORO, MA. - The New England Revolution (2-7-3) lost 3-1 to the Kansas City Wizards (6-4-3), to fall even further into last place. Both the Metrostars and D.C. United won and increased their leads ahead of the Revs in the standings. The Revs are now two wins behind Columbus in the East for the last play-off spot.
<< Previous 1 2 3 4 5 6 7 8 9 10 11 12 13 14 15 16 17 18 19 20 21 22 23 24 25 26 27 28 29 Next >>

Ejections/Injuries ():