Revolution Recap
Revolution Recap
is a weekly review of the New England Revolution and Major League Soccer on Sundays from 7-8PM on WNRI 1380 during the MLS season, hosted by Sean Donahue. For more information visit
RevolutionRecap.com
For the latest Revolution news visit
Soccer New England
.
New content on NERevs.com is temporarily on hold.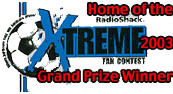 Welcome to NERevs.com!

---
Latest News:
National Soccer Hall of Fame Celebrates Past, Present and Future of American Soccer
Oneonta, NY. – Just a five-hour drive from Fall River will bring you to the Mecca of soccer. The National Soccer Hall of Fame, located only 25 miles away from the Baseball Hall of Fame, celebrates the past, present and future of American soccer. After exploring the many exhibits in the five-year-old facility, it becomes apparent very quickly the Fall River area played a huge part in developing soccer in America. Not only are two Fall River teams enshrined, but also one of the best players in American soccer history, Billy Gonsalves, who played in Fall River, has his own section. Old programs from the Boston Shamrock Rovers (circa 1967) and Rhode Island Oceaners and other past area teams are also on exhibit.
Spirited Rhinos defeat uninspiring Revs in US Open Cup
LUDLOW, MA. – The Rochester Raging Rhinos of the A-League (American Soccer Division II) defeated the New England Revolution 3 to 1 on penalty kicks after playing the ninety minutes of regulation and thirty minutes of overtime to a 1-1 draw. The Rhinos controlled the majority of the possession as the Revs struggled to string together simple passes. Goalie Matt Reis kept the Revs in the match, but it was Rhinos 'keeper Theo Zagar who was the hero when the match went to penalty kicks. The Revs, along with all nine other MLS teams participated in the 99th annual US Open Cup. The tournament pits the best teams from all levels of soccer against each other.
2004 All-Star Game Rosters Announced
The rosters for the Eastern and Western conference teams for the 2004 Major League Soccer All-Star game were announced this week and a few very deserving players were left off. Most noticeably are goalkeeper Joe Cannon and Tony Meola from the Western Conference. The All-Star teams are voted on by fans, players, media and coaches, each counting as 25% of the voting.
Revs fail to hold early lead against Crew, tie 1-1
COLUMBUS, OH. – The Revolution (4-8-5) took a 31st minute lead courtesy of Clint Dempsey, but failed to hold onto it and ended up with a 1-1 tie leaving Columbus. After losing the first two games of the season series with the Crew (5-5-5) in dramatic fashion, the Revs came out fired up and looking for a win. They used this to dominate the possession and chances in the first half, but fatigue from 3 matches in 6 days seemed to hit in the second half as the Crew controlled most of the possession from then on.
<< Previous 1 2 3 4 5 6 7 8 9 10 11 12 13 14 15 16 17 18 19 20 21 22 23 24 25 26 27 28 29 Next >>

Ejections/Injuries ():