Revolution Recap
Revolution Recap
is a weekly review of the New England Revolution and Major League Soccer on Sundays from 7-8PM on WNRI 1380 during the MLS season, hosted by Sean Donahue. For more information visit
RevolutionRecap.com
For the latest Revolution news visit
Soccer New England
.
New content on NERevs.com is temporarily on hold.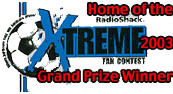 Welcome to NERevs.com!

---
Latest News:
Revs deadlock Crew at two
FOXBORO, MA. – The New England Revolution (4-8-7) came from behind twice to tie the Columbus Crew (6-5-7) on August 7th. With the draw, the Revs move into a tie for the fourth and final playoff spot in the East with the Chicago Fire. Despite leading in almost every offensive statistic, including a fifteen to eight advantage in shots and an eight to four advantage in shots on goal, the Revs trailed twice and could never find an advantage in the one statistic that matters, goals. The tie extends the Crew's unbeaten streak to 6 games and the Revs' unbeaten streak to 5 games.
East continues dominance over West in 2004 edition of the All-Star game
Washington D.C. - The West may be the stronger conference in MLS, but they still have trouble beating the East when it comes to the All-Star game. After two years of trying out different formats for the All-Star game, it finally returned to the Eastern Conference vs. Western Conference format and the Eastern Conference wasted no time and continuing their All-Star game dominance to improve to 4-1-1 in all games played in an East vs. West format. Prior to the East's 3-2 defeat of the West, a 50 minute legends match took place in which the U.S. Legends, comprised mostly of Americans who played on the '94 World Cup team and went on to play in MLS, tied the World Legends, comprised of past foreign stars who played in MLS in an exciting 2-2 draw.
All-Stars? Can we call them that?
With the All-Star game coming up in 2 days, I thought I'd take some time to write about who should be an all-star and who shouldn't. Heres my list, I'm sure everyone has some other ideas but here are mine.
| | |
| --- | --- |
| By MetroMagic.net July 29, 2004 | |
Revs can't hold 2 goal lead against ten-man Earthquakes
San Jose, CA. - The New England Revolution (4-8-6) finally had some luck against the San Jose Earthquakes (5-6-6), taking a two goal lead, despite trailing in every major offensive statistic. With a two goal lead and a man advantage going into stoppage time, the game seemed all but over for the 'Quakes, but two surprising goals in stoppage time helped San Jose earn a 2-2 draw against a tired New England squad. A win would've moved the Revs into 4th, while the tie leaves both the Revs and 'Quakes in last place in the Eastern and Western Conferences, respectively.
<< Previous 1 2 3 4 5 6 7 8 9 10 11 12 13 14 15 16 17 18 19 20 21 22 23 24 25 26 27 28 29 Next >>

Ejections/Injuries ():