Revolution Recap
Revolution Recap
is a weekly review of the New England Revolution and Major League Soccer on Sundays from 7-8PM on WNRI 1380 during the MLS season, hosted by Sean Donahue. For more information visit
RevolutionRecap.com
For the latest Revolution news visit
Soccer New England
.
New content on NERevs.com is temporarily on hold.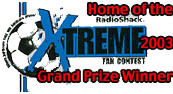 Welcome to NERevs.com!

---
Latest News:
Revs unbeaten streak ends at 7
FOXBORO, MA. – A 16 to 8 advantage in shots was not enough for the New England Revolution (5-9-8) to get anything out of a vital match against the Kansas City Wizards (10-7-5). An early Taylor Twellman goal was not a sufficient lead for the Revs as their record when scoring the first goal (4-2-5) is now the worst in the league. Poor finishing and poor organization that seemed to be getting better during the Revs' recent run could once again be blamed for the Revs loss. The Revs got what should've been good news before the match when they found out Tony Meola, who currently has the best goals against average in the league, had injured his right Achilles in a pre-game jog. Meola's back-up Bo Oshoniyi, however, played so well he earned Man of the Match honors.
Jamaica 1-1 USA
Jamaica tied with the United States in a WCQ tie in Kingston, Jamaica.
Revs tie DC 2-2 on late equalizer
WASHINGTON, DC. – For the second time in a row, Revs' head coach Steve Nicol subbed in Andy Dorman in the last ten minutes of the match and once again Dorman proved to be a hero. After recording a goal and an assist against Dallas on Wednesday coming on in the 83rd minute, Dorman scored a late equalizer against DC just seconds after he entered the match. The New England Revolution (5-8-8) extended their unbeaten streak to 7 games with the tie against DC (6-8-7). The Revs are now in sole possession of fourth place in the East.

Revs defeat Dallas 3-0 behind inspired performance by Matt Reis
DALLAS, TX. – The New England Revolution (5-8-7) made a third minute lead against Dallas (7-8-5) stand thanks to a spectacular performance by Matt Reis. Pat Noonan gave the Revs the early lead with Taylor Twellman and Andy Dorman adding late insurance goals. The Revs took the lead in just the third minute. After earning a free kick about 30 yards out from goal on the right flank, Jose Cancela quickly sent a pass to Steve Ralston, catching the Burn off guard. Ralston got to the end line before sending the ball across the 6-yard box, past goalie Jeff Cassar. Noonan slid in to easily redirect the ball into the empty net.
<< Previous 1 2 3 4 5 6 7 8 9 10 11 12 13 14 15 16 17 18 19 20 21 22 23 24 25 26 27 28 29 Next >>

Ejections/Injuries ():