Revolution Recap
Revolution Recap
is a weekly review of the New England Revolution and Major League Soccer on Sundays from 7-8PM on WNRI 1380 during the MLS season, hosted by Sean Donahue. For more information visit
RevolutionRecap.com
For the latest Revolution news visit
Soccer New England
.
New content on NERevs.com is temporarily on hold.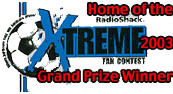 Welcome to NERevs.com!

---
Latest News:
Revs blow two goal lead, lose to Metrostars
East Rutherford, NEW JERSEY – The New England Revolution gave up a 2-0 lead and fell to the Metrostars for the first time in ten games. Goals by Taylor Twellman and Pat Noonan in the first 15 minutes ended the Revs scoring drought and seemed to put them in prime position to get a much needed win, but it wasn't to be as the Metrostars scored three unanswered goals to send the Revs five points out of a play-off spot with five games remaining.
US defeats EL Salvador in violent World Cup Qualifier
FOXBORO, MA. – The U.S. made an early lead stand and added a second half insurance goal in a game that saw El Salvador's coach as well as a player ejected and two fights. Brian Ching earned his first start for the U.S. National Team and didn't fail to disappoint as he scored in the 5th minute. The National Team now moves into first place in Group A of CONCACAF World Cup Qualifying.
Undermanned San Jose defeats faltering Revs

FOXBORO, MA. – The New England Revolution fell to a San Jose Earthquakes squad that was missing four starters, three of which were All-Stars this year. The Revs, nearly at full strength were unable to score against San Jose's back-up goalie, or shut down San Jose's third and fourth string forwards. San Jose was missing forwards Brian Ching (US National Team), Landon Donovan (US National Team), Dwayne Derosario (Canada National Team), and goalie Pat Onstad (Canada National Team). Earlier in the year, the Revs traded forward Chris Brown to the Earthquakes for future considerations. So far the Revs have gotten nothing for the trade, while on the other side of the deal San Jose has gotten two goals and an assist out of Brown including a game-winner on Saturday against the Revs.
Player Profile: Andy Dorman
If all Andy Dorman did this season was score the game tying goal against D.C. United, it would be enough to make the 58th pick in this year's Major League Soccer SuperDraft more valuable than dozens of the picks before him who have yet to see significant playing time or never even signed with their clubs. Dorman has been a hero in recent weeks for the Revs as a late game substitute. Coming on as an 83rd minute substitute against Dallas on August 11th, Dorman recorded his first goal and first assist of the season, adding insurance to a one goal Revs lead that seemed destined to be erased from all of Dallas' offensive pressure until Dorman came on. Three days later on August 14th, Dorman proved hero again, coming on in the 85th minute and scoring the game-tying goal seconds later. The Flintshire, Wales native has played in 16 games, but averages only just over 21 minutes of playing time during those games for a total of 277 minutes. Dorman's two starts came back when the Revs were struggling with injuries and his recent good form hasn't increased his playing time as he came in for the Revs in the 81st minute on August 21st against Kansas City.

<< Previous 1 2 3 4 5 6 7 8 9 10 11 12 13 14 15 16 17 18 19 20 21 22 23 24 25 26 27 28 29 Next >>

Ejections/Injuries ():