Revolution Recap
Revolution Recap
is a weekly review of the New England Revolution and Major League Soccer on Sundays from 7-8PM on WNRI 1380 during the MLS season, hosted by Sean Donahue. For more information visit
RevolutionRecap.com
For the latest Revolution news visit
Soccer New England
.
New content on NERevs.com is temporarily on hold.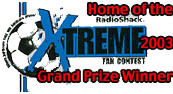 Welcome to NERevs.com!

---
Latest News:
Revs lose to D.C., playoff hopes to be decided in final game of season
WASHINGTON, D.C. - The New England Revolution (7-13-9) have been unable to win two games in a row all season and that didn't change on Saturday, October 9th, as the Revs fell 1-0 to D.C. United. Thanks to a Chicago loss on Wednesday, however, the Revs are one win back from Chicago for the fourth and final playoff spot with their last game of the season at home on October 16th against the Fire. With a Revs win, they would win the tie-breaker and be headed to their third straight postseason.
Revs push back into play-off picture with 2-0 win over Dallas
FOXBORO, MA. – With just two games left in the season the Revs (7-12-9) are on the outside looking into te playoff picture, but their destiny is now in their own hands. Their win against Dallas combined with a Chicago Fire tie puts the Revolution just three points back of Chicago with 2 games remaining, one against the Fire. New England and Dallas (10-13-5) both entered the match at the bottom of the East and West Conferences, respectively, with the Revs trying to qualify for their third straight playoffs and the Burn trying to avoid missing the playoffs for the second straight year.
Revolution suffer major blow to play-off hopes
Chicago, Ills. – Just 7 days after beating the first place Colorado Rapids 6 to 1, the last place New England Revolution were unable to overcome the 9th place Chicago Fire, suffering a 2-0 loss. The loss puts the Revs 5 points behind the Fire for the fourth and final playoff spot with just three games remaining. Despite creating some great chances and controlling the majority of the possession in the second half, the Revs were unable to put anything past Fire goalkeeper Henry Ring.
Record breaking win pushes Revs back into play-off hunt
FOXBORO, MA. – The last place New England Revolution (6-11-9) had their largest victory in team history September 18th defeating the first place Colorado Rapids (10-8-9) by a score of 6-1. Steve Ralston, Pat Noonan and Taylor Twellman each had two goals as the Revs had their highest scoring game in team history. Colorado, who before the match had averaged well under a goal per game against them, allowed the most goals they have all season, twice as much as their previous high of 3 goals. The win, combined with a Chicago Fire loss puts the Revs just two points out of a play-off spot with two games left against the Fire.
<< Previous 1 2 3 4 5 6 7 8 9 10 11 12 13 14 15 16 17 18 19 20 21 22 23 24 25 26 27 28 29 Next >>

Ejections/Injuries ():