Revolution Recap
Revolution Recap
is a weekly review of the New England Revolution and Major League Soccer on Sundays from 7-8PM on WNRI 1380 during the MLS season, hosted by Sean Donahue. For more information visit
RevolutionRecap.com
For the latest Revolution news visit
Soccer New England
.
New content on NERevs.com is temporarily on hold.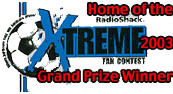 Welcome to NERevs.com!

---
Latest News:
US takes tough loss in Mexico, rebounds with dominating performance over Guatemala
The US Men's National Team started the week with a disappointing loss to Mexico on Sunday, March 27th in front of an away crowd of around 110,000.
Revolution Preseason Update
The New England Revolution have already completed the first part of their international preseason, finishing off a week in Bermuda with 3 wins in 3 days. They are back in Foxboro for a week before heading off to Ecuador for two weeks. Once again this year the Revs opted to not go to Florida to face other MLS teams. Revs Technical Director Joe Cummings explained the Revs preseason plans and other happenings.
Revs start preseason with three wins
The New England Revolution started off their preseason on a good note, taking three wins in three days out of Bermuda despite missing seven potential starters. The Revs had to make the trip without Taylor Twellman, Pat Noonan, Steve Ralston and Clint Dempsey due to US National Team call-ups, as well as Jay Heaps, Joey Franchino and the newly signed Brazilian Cassio for various other reasons. The Revs played full matches against a Bermuda "Select XI" team on Tuesday and against the Bermuda National team on Thursday as well as a 45-minute match against Bermuda's top club team, Dandy Town, on Wednesday. Meanwhile Twellman, Noonan, Ralston and Dempsey saw action with the US National Team against MLS expansion team, Chivas US on Wednesday.
US start final round of World Cup Qualification with a win on the road
The U.S. Men's National Soccer Team went into Port of Spain, Trinidad after a shortened training camp due to a labor dispute and managed to get a crucial three points on the road to start the final round of World Cup Qualifying. Led by 20 year-old Eddie Johnson and veteran Eddie Lewis' goals along with some great saves from Kasey Keller, the U.S. held off a Trinidad and Tobago attack led by Dwight Yorke and Stern John, two forwards with English Premier League experience.
<< Previous 1 2 3 4 5 6 7 8 9 10 11 12 13 14 15 16 17 18 19 20 21 22 23 24 25 26 27 28 29 Next >>

Ejections/Injuries ():