Revolution Recap
Revolution Recap
is a weekly review of the New England Revolution and Major League Soccer on Sundays from 7-8PM on WNRI 1380 during the MLS season, hosted by Sean Donahue. For more information visit
RevolutionRecap.com
For the latest Revolution news visit
Soccer New England
.
New content on NERevs.com is temporarily on hold.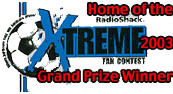 Welcome to NERevs.com!

---
Latest News:
First Place Revolution extinguish Fire, get another win on the road
Chicago, IL. –The New England Revolution established themselves as the early front-runners in the Eastern Conference with a 3-0 win over the Chicago Fire on Wednesday, April 27th. The win puts the Revs 3 points ahead of the Fire in the standings, having played one less game. Taylor Twellman, Clint Dempsey and Pat Noonan all scored in the game and all three currently sit atop the MLS goal scoring chart with 3 goals. Twellman's goal marked his 50th career MLS goal.
Revs overcome referee and defending champs, end DC's home unbeaten streak
Washington, DC – The New England Revolution, just three games into the season, have stormed into first place with a game in hand. The Revolution, now 2-0-1, are off to their best start in franchise history after beating DC United, the defending champs, in a high scoring affair that ended 4-3. With the win, the Revs ended DC United's home unbeaten streak that had stretched back to May of last year.
New England Revolution at DC United Preview
New England travel to DC to take on the defending champs in a rematch of last year's exciting Eastern Conference Final.
Crew streak ended, Revs dominate in 3-0 home opener win
Foxboro, MA. – The New England Revolution ended the Columbus Crew's record 19 game unbeaten streak in regular season play on Saturday with a 3-0 win in the Revolution's home opener at Gillette Stadium. Forward Pat Noonan and midfielders Clint Dempsey and Andy Dorman all scored for the Revs in the second half.
<< Previous 1 2 3 4 5 6 7 8 9 10 11 12 13 14 15 16 17 18 19 20 21 22 23 24 25 26 27 28 29 Next >>

Ejections/Injuries ():