Revolution Recap
Revolution Recap
is a weekly review of the New England Revolution and Major League Soccer on Sundays from 7-8PM on WNRI 1380 during the MLS season, hosted by Sean Donahue. For more information visit
RevolutionRecap.com
For the latest Revolution news visit
Soccer New England
.
New content on NERevs.com is temporarily on hold.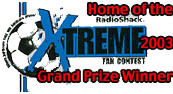 Welcome to NERevs.com!

---
Latest News:
Revs stay unbeaten, comeback to tie Metrostars
East Rutherford, NJ. – Taylor Twellman scored twice on Saturday to lead the undefeated Revs in a 2-2 tie against the Metrostars. The Revs took the lead very early in the game only to allow a goal within ten minutes and then fall behind with less than ten minutes to go. Twellman proved the hero scoring the game-tying goal just a minute before the end of regulation.
Revs beat defending champs, extend winning streak to 6 games
FOXBORO, MA. - The New England Revolution defeated D.C. United by a score of 1-0 on Saturday. Taylor Twellman scored the lone goal of the game for New England as the Revs remained the only team still unbeaten this season. The Revs, now nine points up in the Eastern conference after only seven games, have beaten the defending Champions twice already this season.
First place Revs extend winning streak, beat Chicago 2-0
Foxboro, MA. – The New England Revolution continued to build their lead in first place with a dominating 2-0 victory over the second place Chicago Fire. The win extended the Revs winning streak to five games and leaves them unbeaten on the season with a 5-0-1 record. New England is currently 6 points ahead of the Chicago Fire for first place in the Eastern Conference with the Revs having played one less game than the Fire.
Revs leave Chivas till late, extend winning streak with 88th minute goal
Foxboro, MA. – The first place, undefeated New England Revolution extended their winning streak to four games with a dominating performance in heavy rain, resulting in a 1-0 victory over expansion team Chivas USA. Clint Dempsey was the hero for the Revolution again, scoring the game's only goal in the 88th minute. The win moved the Revs to 4-0-1 on the season with Dempsey having the game-winning goal in all four wins as he leads the league in scoring.
<< Previous 1 2 3 4 5 6 7 8 9 10 11 12 13 14 15 16 17 18 19 20 21 22 23 24 25 26 27 28 29 Next >>

Ejections/Injuries ():