Revolution Recap
Revolution Recap
is a weekly review of the New England Revolution and Major League Soccer on Sundays from 7-8PM on WNRI 1380 during the MLS season, hosted by Sean Donahue. For more information visit
RevolutionRecap.com
For the latest Revolution news visit
Soccer New England
.
New content on NERevs.com is temporarily on hold.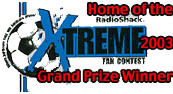 Welcome to NERevs.com!

---
Latest News:
Revs suffer first defeat, fall 2-0 to DC United
Washington, D.C. – The New England Revolution suffered their first defeat of the season at the hands of defending champs DC United. The Revs came out flat in the first half, went down by two goals early and were unable to recover.
Revs extend streak, beat Kansas City 2-0
Kansas City, MO. – The New England Revolution picked up a win on the road to extend their unbeaten streak to 11 games. The Revs, sitting comfortably in first place, got the win thanks in part to some fine saves from Man of the Match Matt Reis. The win puts the Revs record at 7-0-4.
Revolution extend streak to ten games with 1-1 tie against Kansas City
FOXBORO, MA. - The New England Revolution extended their team record unbeaten run to ten games with a 1-1 tie against the Kansas City Wizards. The Revolution were without forward Pat Noonan and midfielders Steve Ralston and Clint Dempsey who were away with the US National Team, as well as Avery John who was with the Trinidad and Tobago National Team. Kansas City was without Kerry Zavagnin and Josh Wolff, also away with their national teams. Shalrie Joseph, listed as doubtful due to a broken nose received on Thursday, played the whole match.
Revs remain unbeaten, tie Colorado 0-0
Foxboro, MA. – The New England Revolution extended their unbeaten run to nine games with a 0-0 tie against the Colorado Rapids. The Revs extended their home shut-out streak to five games and stayed at the top of the standings.
<< Previous 1 2 3 4 5 6 7 8 9 10 11 12 13 14 15 16 17 18 19 20 21 22 23 24 25 26 27 28 29 Next >>

Ejections/Injuries ():