Revolution Recap
Revolution Recap
is a weekly review of the New England Revolution and Major League Soccer on Sundays from 7-8PM on WNRI 1380 during the MLS season, hosted by Sean Donahue. For more information visit
RevolutionRecap.com
For the latest Revolution news visit
Soccer New England
.
New content on NERevs.com is temporarily on hold.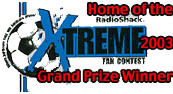 Welcome to NERevs.com!

---
Latest News:
Scottish Champs impressed by MLS
Glasgow Celtic, the defending Scottish Premier League Champions, opted to spend part of their preseason in the US, where they faced two Major League Soccer teams. Celtic started their trip with a 4-0 loss to D.C. United on July 12th, who currently reside in first place in MLS. They then played Chivas de Guadalajara (Mexico) to a scoreless tie on July 14th, before drawing 1-1 with the New England Revolution on July 19th despite being outplayed.
Clint Dempsey leads Revs and US with style
In the aftermath of a disappointing World Cup for the US Menís National Team, both former Head Coach Bruce Arena and former captain Claudio Reyna have commented on the necessity of more players plying their trade in Europe for the US to advance. This belief, though held by many, fails to have much backing when one considers the best player for the US in this World Cup was in fact the New England Revolutionís own Clint Dempsey.
World Cup full of expectations, ends in great disappointment for the US
The US Menís National Soccer Teamís World Cup dreams came to a crashing halt on June 22nd as they lost to Group E underdogs Ghana. The USA managed only a single point in group play, losing to the Czech Republic, tying Italy and ending with a loss to Ghana. Going into the World Cup, the Czech Republic and Italy looked to be the favorites to advance with the USA as firm challengers and Ghana the unknown quantity. Group E, however, considered the ďgroup of deathĒ by many, proved to be just that as it was the only group in which no team had clinched a spot in the next round before their third game.
Injury depleted Revs struggle to get results despite good play
The New England Revolution have come away with three ties in a row, while without as many as 11 players due to injury in addition to missing two players to the World Cup. The Revs were missing Pat Noonan, Daniel Hernandez, James Riley, Joe Franchino, Khano Smith, Marshall Leonard, Doug Warren, Willie Sims, Jani Galik, Ryan Latham and Leandro de Oliveira for all or most of their recent matches due to injury in addition to Clint Dempsey (USA) and Avery John (Trinidad and Tobago) due to World Cup duty. Despite this, the Revs still outplayed many of their opponents and can feel unlucky to have only come away with three ties in three matches.
<< Previous 1 2 3 4 5 6 7 8 9 10 11 12 13 14 15 16 17 18 19 20 21 22 23 24 25 26 27 28 29 Next >>

Ejections/Injuries ():