Revolution Recap
Revolution Recap
is a weekly review of the New England Revolution and Major League Soccer on Sundays from 7-8PM on WNRI 1380 during the MLS season, hosted by Sean Donahue. For more information visit
RevolutionRecap.com
For the latest Revolution news visit
Soccer New England
.
New content on NERevs.com is temporarily on hold.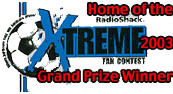 Welcome to NERevs.com!

---
Latest News:
Revs complete spectacular comeback, score two late goals to win
Foxboro, MA. – The New England Revolution completed a spectacular comeback coming back from a goal down in the 90th minute to win against the top team in the West, FC Dallas, by a score of 3-2. Taylor Twellman was the hero of the night getting his second hat trick as a member of the Revs.
US advances to semifinals of Gold Cup
Foxboro, MA. – The US Men's National Team defeated Jamaica 3-1 in the CONCACAF Gold Cup quarterfinals to advance to the semifinals where they will face Honduras. For the first time in the tournament, the US got out to an early lead and held it for the whole match.
Depleted Revs fall to Fire
Chicago, Ill. – The New England Revolution suffered just their second loss of the season, falling 1-0 to the Chicago Fire. New England were without Pat Noonan, Steve Ralston, Clint Dempsey and Avery John due to Gold Cup call-ups as well as Shalrie Joseph due to yellow card accumulation. Chicago were without Tony Sanneh, Chris Armas, Samuel Caballero and Ivan Guerrero due to Gold Cup call-ups. After a fairly even first half that was marred by poor passing, Chicago took over for the last 45 minutes and managed to get the goal they needed for the win.
US finishes Gold Cup group play undefeated, takes first in Group B
The United States' Mens National Soccer Team finished group play of the CONCACAF Gold Cup with a 2-0-1 record and first place in Group B. The US had a little more trouble then expected in group play, but still managed to come out on top despite resting several key players each game.
<< Previous 1 2 3 4 5 6 7 8 9 10 11 12 13 14 15 16 17 18 19 20 21 22 23 24 25 26 27 28 29 Next >>

Ejections/Injuries ():