Revolution Recap
Revolution Recap
is a weekly review of the New England Revolution and Major League Soccer on Sundays from 7-8PM on WNRI 1380 during the MLS season, hosted by Sean Donahue. For more information visit
RevolutionRecap.com
For the latest Revolution news visit
Soccer New England
.
New content on NERevs.com is temporarily on hold.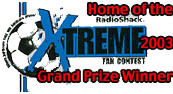 Welcome to NERevs.com!

---
Latest News:
Revolution head into All-Star break in first, tie gets Revs back into top spot
Foxboro, MA. - The New England Revolution headed into the All-Star break on top of the league after a 1-1 tie with the Los Angeles Galaxy. Neither side had many chances in the match and 90 minutes was not enough to separate the two teams.

Chelsea defeat AC Milan in first game of the "World Series of Football"
Foxboro, MA. - The 26,208 soccer fans in attendance got to witness some world class soccer on Sunday night as defending English Premier League champs Chelsea FC defeated European Champions League Finalists and Italian Serie A runners-up AC Milan by a score of 1-0 in Foxboro. The game was the first in a series of friendlies called the "World Series of Football" in which Chelsea face Milan twice, and the Chicago Fire faces Milan and DC United faces Chelsea. The match featured some exciting end to end action with each team having many good goal scoring oppurtunities. Chelsea had their full squad available, while Milan were missing Kaka, Nelson Dida, Paolo Maldini and Andriy Shevchenko.
US wins Gold Cup, defeats Panama on penalties
E. Rutherford, NJ. - The US Men's National Soccer Team defeated Panama 3-1 on penalty kicks after both sides failed to score in 90 minutes of regulation time. Although the US controlled much of the possession in the match, both sides had great chances to take the lead, but poor shooting and good goalkeeping kept both teams off the score sheet. The win marked the third time the US has won the Gold Cup.
Chivas upsets Revs in battle of first vs. last
Carson, CA. – The first place New England Revolution fell to the last place Chivas USA 1-0 on Friday, July 22nd. Currently with a record of 10-3-5, the Revs have had some struggles as of late going 1-2-1 in July so far with their only win coming against the then top team in the league (FC Dallas). The Revs have been without midfielders Steve Ralston and Clint Dempsey as well as forward Pat Noonan due to call-ups to the US for the Gold Cup for all of those games, except for the win in which the Revs had Pat Noonan and Clint Dempsey back. Help is on the way though, as all three players should be back in a Revolution uniform for the upcoming game against the Los Angeles Galaxy on Wednesday, July 27th.
<< Previous 1 2 3 4 5 6 7 8 9 10 11 12 13 14 15 16 17 18 19 20 21 22 23 24 25 26 27 28 29 Next >>

Ejections/Injuries ():