Revolution Recap
Revolution Recap
is a weekly review of the New England Revolution and Major League Soccer on Sundays from 7-8PM on WNRI 1380 during the MLS season, hosted by Sean Donahue. For more information visit
RevolutionRecap.com
For the latest Revolution news visit
Soccer New England
.
New content on NERevs.com is temporarily on hold.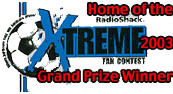 Welcome to NERevs.com!

---
Latest News:
Revs struggles continue, fall to KC in first home loss
Foxboro, MA. – For the first time since September 4th of 2004, the New England Revolution lost at home as their midseason struggles continued. The Revolution lost 2-1 to Kansas City and have managed to get only 5 points out of their last six games. Due to the Chicago Fire also losing, the Revs remain in first in the Eastern Conference, however they have been overtaken by San Jose in the overall standings.
Revs blow off US Open Cup, fall 3-2 to Fire in extra time
Ludlow, MA. – The New England Revolution essentially decided to blow off their chance of bringing home the Dewar Cup to their empty trophy case by playing what was in essence their reserve team against the Chicago Fire's starters in front of standing room only crowd of just under 4,000 at Lusitano Stadium.
July Wrap-Up: MLS proves they can compete with the best in hectic month
In a very eventful month of July for Major League Soccer, the league and its teams proved they could compete against some of the best in the world. MLS clubs faced off against top clubs from Europe as Real Madrid, Chelsea FC, AC Milan and Fulham FC all visited the US on preseason tours.
MLS All-Stars crush Fulham, 4-1
Columbus, OH. - The MLS All-Stars, led by several members of the New England Revolution, crushed Fulham's hopes of bringing the All-Star trophy back to London with them.
<< Previous 1 2 3 4 5 6 7 8 9 10 11 12 13 14 15 16 17 18 19 20 21 22 23 24 25 26 27 28 29 Next >>

Ejections/Injuries ():