Revolution Recap
Revolution Recap
is a weekly review of the New England Revolution and Major League Soccer on Sundays from 7-8PM on WNRI 1380 during the MLS season, hosted by Sean Donahue. For more information visit
RevolutionRecap.com
For the latest Revolution news visit
Soccer New England
.
New content on NERevs.com is temporarily on hold.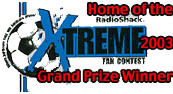 Welcome to NERevs.com!

---
Latest News:
Revolution fall 2-0 to Rapids, lose two players to suspension for next game
DENVER, CO. – The Revolution's struggles in Denver continued on Wednesday as the first place Revoultion fell 2-0 to the struggling Colorado Rapids. Missing their usual starting strikers Taylor Twellman and Pat Noonan, to a US National Team call-up and an ankle injury, respectively, head coach Steve Nicol opted to play a defensive 4-5-1 formation with Clint Dempsey starting alone up top. Also out due to injury was back-up forward Connally Edozien, which could've influenced the decision to make the formation change. Missing due to national team duty were Steve Ralston (USA) and Avery John (Trinidad and Tobago), while Colorado were without Jeff Cunningham (USA).
US defeat Trinidad and Tobago in World Cup Qualifying
East Hartford, CT. - The US beat Trinidad and Tobago 1-0 on Wednesday August 17th, and guaranteed that they would finish no worse than 4th place in the final stage of CONCACAF World Cup Qualifying with 4 matches still left to play. The top 3 teams automatically qualify for the World Cup, while the 4th place team will go into a play-off with a team from Asia. The US are currently second in the standings with 15 points, one behind Mexico and eight above the third and fourth place teams.
Revs give Dallas first home defeat, win 2-1
Frisco, Texas. - The New England Revolution handed FC Dallas their first home loss of the season with a 2-1 victory on Saturday night. Texas native Clint Dempsey and Grenada International Shalrie Joseph scored to lead the Revs to their league leading 12th win of the season.

Revs crush Salt Lake with 4-1 win
Foxboro, MA. – The New England Revolution ran out easy winners against Expansion side Real Salt Lake, putting 4 goals on the board to grab a large win. The Revolution dominated their first ever match against Real Salt Lake. The Salt Lake squad featured 5 former Revolution players in Brian Kamler, Rusty Pierce, Andy Williams, Chris Brown and Brian Dunseth.
<< Previous 1 2 3 4 5 6 7 8 9 10 11 12 13 14 15 16 17 18 19 20 21 22 23 24 25 26 27 28 29 Next >>

Ejections/Injuries ():