Revolution Recap
Revolution Recap
is a weekly review of the New England Revolution and Major League Soccer on Sundays from 7-8PM on WNRI 1380 during the MLS season, hosted by Sean Donahue. For more information visit
RevolutionRecap.com
For the latest Revolution news visit
Soccer New England
.
New content on NERevs.com is temporarily on hold.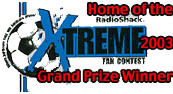 Welcome to NERevs.com!

---
Latest News:
Revolution fall in 5-4 thriller against the Metrostars
East Rutherford, NJ. – The New England Revolution lost in their first chance to clinch a playoff spot in a 5-4 loss to the 5th place Metrostars. The Revs fell behind early, but came back and took the lead at 4-3, before giving up two late goals. The loss marks the first time the Revs have given up more than three goals all season.
Revs break team record for wins in a season with win over Salt Lake
Salt Lake City, UT. – The New England Revolution won their 14th game of the season with a 1-0 victory on the road against Real Salt Lake on Saturday. Khano Smith scored the lone goal of the match as the Revs reached 14 wins for the first time in their ten year history. With 7 games remaining the Revs currently have 48 points, their best ever points total, surpassing the 45 reached in 2003.
Ralston scores game winner against Mexico as US qualify for the World Cup
Columbus, OH. - The US Men's National Team became the first nation in the CONCACAF (North and Central America) region to qualify for the 2006 World Cup in Germany. It was the first time since 1934 that the US has accomplished this feat. It also marks the 5th consecutive time the US has qualified for the World Cup. The New England Revolution's Steve Ralston scored the game winner for the US, while DaMarcus Beasley also scored, as the US beat their archrivals.
Twellman, Revs stun D.C.
Foxboro, MA. – The New England Revolution began to distance themselves from the chasing pack with a 2-1 comeback win over defending champs D.C. United. DC dominated a lot of the possession and got off to an early lead, but the Revs managed to come back and get the win.
<< Previous 1 2 3 4 5 6 7 8 9 10 11 12 13 14 15 16 17 18 19 20 21 22 23 24 25 26 27 28 29 Next >>

Ejections/Injuries ():