Revolution Recap
Revolution Recap
is a weekly review of the New England Revolution and Major League Soccer on Sundays from 7-8PM on WNRI 1380 during the MLS season, hosted by Sean Donahue. For more information visit
RevolutionRecap.com
For the latest Revolution news visit
Soccer New England
.
New content on NERevs.com is temporarily on hold.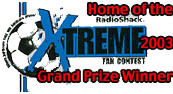 Welcome to NERevs.com!

---
Latest News:
U.S. cruise past Honduras in 4-0 victory
FOXBORO, MA. (6/2/04) - The U.S. National Team easily defeated Honduras by a margin of 4-0 thanks in part to two goals from Brian McBride in front of a Gillette Stadium crowd of 11,533 that was mostly pro-Honduras. The U.S. dominated in the first half, but backed off a little after going into half time with a two goal lead and a man advantage thanks to the 40th minute ejection of Hondurasí captain Amado Guevara. The match was the final tune-up for the U.S. before they begin the long qualifying process for the World Cup on June 13th.
Revs lose game and Twellman
FOXBORO, MA. (5/29/04)- The New England Revolution (1-4-3) lost 1-0 to D.C. United (3-4-3) thanks to a 5th minute own goal, but probably more importantly lost Taylor Twellman, the teamís leading goal scorer the past two years, to a hamstring injury in the 69th minute. A crowd of 19,314 showed up to see Freddy Aduís Gillette Stadium debut and it sometimes seemed to be a pro-D.C. United crowd as fans often booed when Adu was knocked down and no foul was given.
Revs fail to hold early lead against Metrostars and end in 1-1 draw
FOXBORO, MA. - The New England Revolution took an early lead against the Metrostars, but despite creating the majority of good chances they were unable to respond to a second half goal by Cornell Glen and came away with a somewhat disappointing 1-1 draw. An early goal by Pat Noonan ended the Revolutionís scoreless streak that lasted over two games, but wasnít enough to end their winless streak that has now stretched to three games.
Referee gifts Columbus a win on the fifth anniversary of their stadium
COLUMBUS, OHIO. (5/15/04) - The New England Revolution (1-3-2) scored two goals against Columbus (1-3-2), but somehow managed to find themselves on the short end of a 1-0 loss to the previously winless Crew. After a late first half goal by Edson Buddle, Taylor Twellman and Steve Ralston both scored what could have been the equalizing goal, but both were called offsides by Michael Kennedy in two of his many questionable calls that night. The Crew, who were celebrating the 5th anniversery of Crew Stadium, got away with rough play all night with a slide-tackle from behind on Jose Cancela and many off-the-ball challenges on Clint Dempsey going uncarded. Dempsey, who had received a yellow card earlier for a soft foul on Kyle Martino was unable to retaliate, fearing a red card.
<< Previous 1 2 3 4 5 6 7 8 9 10 11 12 13 14 15 16 17 18 19 20 21 22 23 24 25 26 27 28 29 Next >>

Ejections/Injuries ():