Revolution Recap
Revolution Recap
is a weekly review of the New England Revolution and Major League Soccer on Sundays from 7-8PM on WNRI 1380 during the MLS season, hosted by Sean Donahue. For more information visit
RevolutionRecap.com
For the latest Revolution news visit
Soccer New England
.
New content on NERevs.com is temporarily on hold.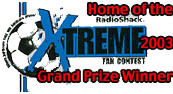 Welcome to NERevs.com!

---
Latest News:
U.S. defeat determined Grenada squad 3-0 in first leg of two game series
COLUMBUS, OH. (6/13/04)- The U.S. defeated Grenada by a score of 3-0, but with better finishing could've been headed to Grenada for the second leg of the series with an insurmountable lead in the two-game aggregate series. Damarcus Beasley led the U.S. with two goals, his first ever goals in World Cup qualifying, and Greg Vanney scored an important goal in stoppage time of the second half, his first ever international goal. The U.S. received some bad news in the 21st minute, when starting forward Conor Casey went down with a right knee sprain that will see him out for about six weeks.
Revs dominate but still lose
DALLAS, TX. (6/12/04)- Despite missing seven starters, the New England Revolution (2-6-3) dominated against the Dallas Burn (4-4-2), but still left with a 3-1 loss. Without regular starters Taylor Twellman, Pat Noonan, Joe-Max Moore, Carlos Llamosa, Rusty Pierce and Brian Kamler due to injury and Shalrie Joseph due to his call-up to the Grenada national team, the Revs still managed to control the possession for the majority of the match. Already down 3-1 in the 89th minute, the Revs faced more problems when captain Joey Franchino was suspended, leaving the Revs without yet another player for the upcoming match against Kansas City.
Columbus defeat Revs in sloppy match
FOXBORO, MA. - For the second time this year, the Revs lost to Columbus because of poor refereeing and poor decision making. Both teams had trouble judging their passes in the wet field conditions and constant drizzle as they played in front of a crowd of 7,047. The Revs, who played their 3rd game in 8 days lost 2-1. Both teams failed to score on some clear chances including a penalty kick in stoppage time of the second half that could have brought the Revs level.
Noonan hat trick leads Revs in late comeback victory against Kansas City
KANSAS CITY, MO. (6/2/04) - Two goals in the last minutes of the match by Pat Noonan, completed his hat trick and gave the New England Revolution (2-4-3) a surprising 3-2 victory over the Kansas City Wizards (3-4-2). The Revs finally produced some offense scoring three goals for the first time all season. Missing forward Joe-Max Moore and star forward Taylor Twellman to injury, the Revs moved Clint Dempsey out of his normal defensive-midfield spot into forward alongside Noonan.
<< Previous 1 2 3 4 5 6 7 8 9 10 11 12 13 14 15 16 17 18 19 20 21 22 23 24 25 26 27 28 29 Next >>

Ejections/Injuries ():